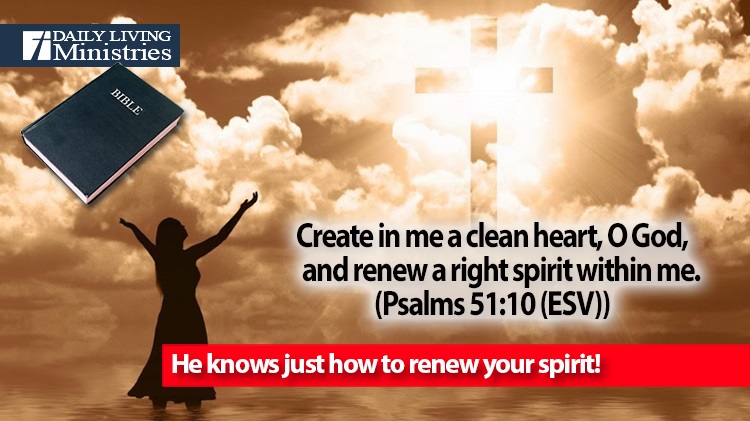 Be Still . . .
Devotionals for Daily Living ©
Create in me a clean heart, O God,
     and renew a right spirit within me.
(Psalms 51:10 (ESV))
What is the state of your spirit within you?
If you are anything like me, if you suffer as part of humanity, then the things that happen around us and to us have an impact on us whether we want to admit it or not. With what the whole world has experienced over the last year or more, it impacts even those who profess a faith in Jesus as their personal Lord and Savior. Sometimes I just look at the things of this world and sigh because I can't put my thoughts into accurate words. I sigh because of the unrighteous things that I see. I sigh because I long for God's righteousness and not the world's evil. If you are like me, you can understand how Elijah felt when he ran from Jezebel.
But he himself went a day's journey into the wilderness and came and sat down under a broom tree. And he asked that he might die, saying, "It is enough; now, O Lord, take away my life, for I am no better than my fathers."
(1 Kings 19:4 (NIV))
Elijah had fled Jezebel. He was afraid and he was tired. Human nature took control and he wanted to have God end his life. He was physically, mentally and spiritually exhausted.
And he lay down and slept under a broom tree. And behold, an angel touched him and said to him, "Arise and eat." And he looked, and behold, there was at his head a cake baked on hot stones and a jar of water. And he ate and drank and lay down again. And the angel of the Lord came again a second time and touched him and said, "Arise and eat, for the journey is too great for you." And he arose and ate and drank, and went in the strength of that food forty days and forty nights to Horeb, the mount of God.
(1 Kings 19:5-8 (NIV))
Elijah was a prophet. He heard from God on many different occasions, and yet he still had a crushed spirit due to the events in the world in his life. How can we assume that we will have the strength to achieve on our own what Elijah was unable to achieve on his own?
A day's journey into the wilderness means that he found a place to escape his troubles and rest. This allowed for the Lord to send comfort and renewal not once, but twice. Because he was able to find rest in the Lord, he was prepared to face the journey ahead. That journey had him face many dark days, but he was able to face them because he found rest in the Lord and the Lord renewed his spirit.
When you sigh and groan under the weight of the world, remember Elijah. Seek the Lord and seek rest in His presence. Our sighs and groans are not incomprehensible to the Lord.
In the same way, the Spirit helps us in our weakness. We do not know what we ought to pray for, but the Spirit himself intercedes for us through wordless groans.
(Romans 8:26 (NIV))
He knows just how to renew your spirit!
Copyright 1998 – 2021 Dennis J. Smock
Daily Living Ministries, Inc.
http://www.dailylivingministries.org
Support Daily Living Ministries
Subscribe to daily email delivery
Visit us on facebook