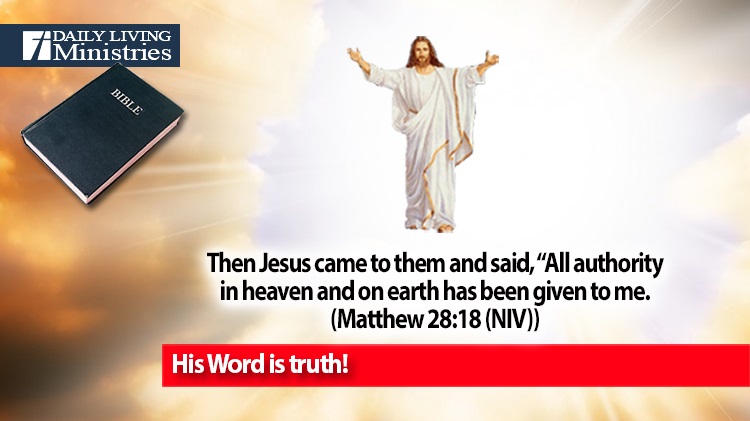 Be Still . . .
Devotionals for Daily Living ©
Then Jesus came to them and said, "All authority in heaven and on earth has been given to me.
(Matthew 28:18 (NIV))
Timing is everything. If Jesus had spoken these words earlier in His time on earth, He would have given those who sought to crucify Him just that much more evidence to support their plans, but Jesus spoke them after His resurrection. He spoke them to His disciples after He had been crucified and they saw Him die. He spoke them to His disciples after they had seen Him buried. He spoke them after His resurrection and after He had appeared to them various times. He spoke them at a point in time when those who witnessed all of these events would fully understand that what He said was true.
Could you imagine witnessing all of these events? Could you imagine hearing these words as Jesus spoke them? Could you imagine being so on fire for the Lord that you are willing to do anything that He asks, even if you knew that there was a chance that it would mean hardship and more?
Therefore go and make disciples of all nations, baptizing them in the name of the Father and of the Son and of the Holy Spirit, and teaching them to obey everything I have commanded you. And surely I am with you always, to the very end of the age."
(Matthew 28:19-20 (NIV))
Many scholars have come to the conclusion that the resurrection was real simply based on the lives of the disciples from that moment on. They realized that no one is willing to die for a lie, but all of them were willing to die for the truth of the Gospel. They had witnessed something so amazing that their very lives were transformed.
Do you hold fast to the truth of the authority that Jesus has been given? Has your life been transformed?
As believers in Jesus as our personal Lord and Savior, we long to hear words spoken by Jesus as well.
His master replied, 'Well done, good and faithful servant! You have been faithful with a few things; I will put you in charge of many things. Come and share your master's happiness!'
(Matthew 25:21 (NIV))
Can you imagine what it will be like to hear Jesus say these words? Timing is everything. Each day brings us closer to that day. Whether it is at the end of our life, or at His return for His church, everyone who professes a faith in Jesus longs to hear these words. Until that day, we must hold fast to the promises that we have been given. We must keep our eyes focused on Jesus and remember one simple truth. When things look bad, we must look up!
He is coming again!
His Word is truth!
Copyright 1998 – 2021 Dennis J. Smock
Daily Living Ministries, Inc.
http://www.dailylivingministries.org
Support Daily Living Ministries
Subscribe to daily email delivery
Visit us on facebook