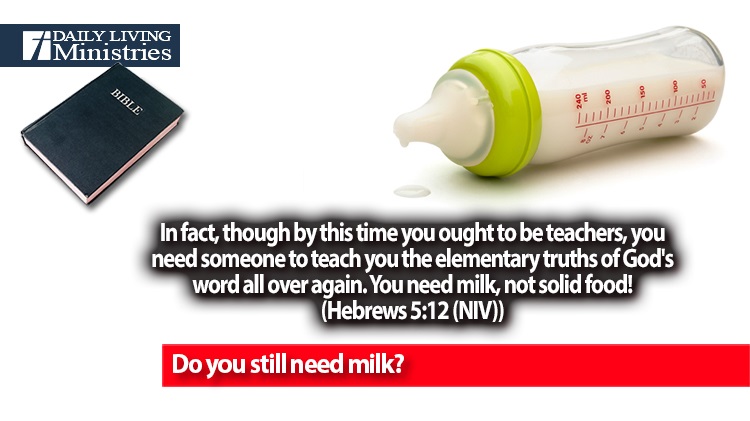 Be Still . . .
Devotionals for Daily Living ©
In fact, though by this time you ought to be teachers, you need someone to teach you the elementary truths of God's word all over again. You need milk, not solid food!
(Hebrews 5:12 (NIV))
What do you put into your physical body to sustain it and give it the nourishment that it needs? What gives you the physical strength that you need to face each day?
Each of us are mature enough to realize what our body needs in order to be nourished and thrive. We know that we have to provide our physical body what it needs, and we know that it is not a once a week occurrence, or even a once a day occurrence. We also know that in order to feed our physical bodies, it takes time to prepare. It takes time to decide what we need and then to make it happen. We may still drink milk, but it is not our only source of nutrition. Thanks to the milk we received as an infant, we have matured enough to now need solid food! If you have children, you have probably spent some of your time teaching them how to prepare solid food and how to make wise decisions.
The same is true of our spiritual life as well.
When we become new believers, we drink in the basic concepts, the milk, of our salvation. We learn the basics, such as the ABCs of salvation, in much the same way that we learn the letters of the alphabet.
A is for admit that you are a sinner in need of a savior.
B is for believe in your heart that Jesus Christ died for your sins, was buried, and that God raised Him from the dead.
C is for call upon the name of the Lord Jesus.
We must feed our spiritual side with much more than the simplicity of the Gospel. We must dive deeply into God's Word and learn all that we can about God the Father, Jesus the Son, and the Holy Spirit. We must prepare ourselves to respond to others in such a way that they may feast upon the solid spiritual food that we all need. We must not simply sit in the pews for an hour a week and allow someone to spoon feed us what we need. In much the same way that an infant will start to feed themselves, we must learn to feed ourselves the spiritual solid food that allows us to deepen our relationship with the Lord. We must take what we learn and share it with new believers in much the same way that our mentors shared with us.
We have a responsibility!
He said to them, "Go into all the world and preach the gospel to all creation.
(Mark 16:15 (NIV))
We can't preach the Gospel if all that we can do is recite the ABCs. We can't preach the Gospel if all that we feed upon is milk!
Do you still need milk?
Copyright 1998 – 2021 Dennis J. Smock
Daily Living Ministries, Inc.
http://www.dailylivingministries.org
Support Daily Living Ministries
Subscribe to daily email delivery
Visit us on facebook