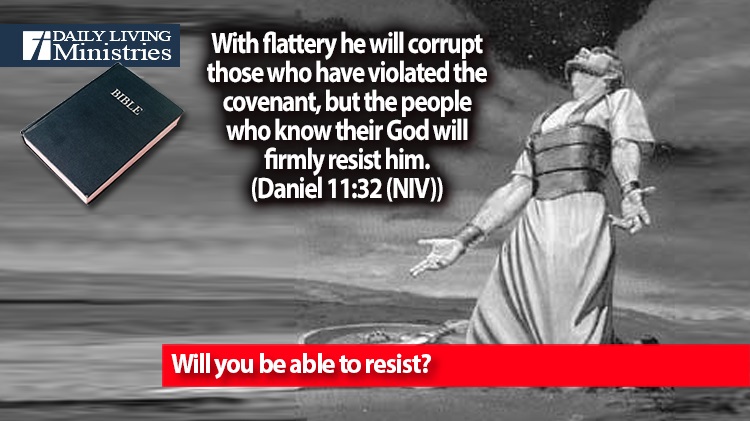 Be Still . . .
Devotionals for Daily Living ©
With flattery he will corrupt those who have violated the covenant, but the people who know their God will firmly resist him.
(Daniel 11:32 (NIV))
Have you ever fallen for flattery?
Be careful how quickly you answer and how you answer for everyone likes the proverbial pat on the back. We like to be told that we are valuable and that we are the best at what we can do. We like to have our ego stroked and most of us will subconsciously choose to be around those who do just that. This human characteristic makes each of us easy pray for the father of lies, and flattery is just that. It is lies designed to draw you into the tangled web of deception. Flattery is nothing more than false promises used to entrap us in something that we truly don't want. This is probably one of the biggest ways that the enemy is able to draw us into sin.
It is important that we, as believers in Jesus as our personal Lord and Savior, keep our eyes firmly fixed upon Jesus. What He tells us is not flattery. Jesus will tell us the truth. He will tell us that we are loved by God and that He died to save us from the consequences of sin. Even if He could lie, He has no reason to, for everything that Jesus promises is true.
His armed forces will rise up to desecrate the temple fortress and will abolish the daily sacrifice. Then they will set up the abomination that causes desolation.
(Daniel 11:31 (NIV))
I find it interesting that Daniel speaks of the devil using flattery right after he tells us that the enemy will set up the abomination that causes desolation. He will use flattery to draw people to himself after he has declared himself to be God. The enemy will say things that our sinful natures long to hear. He will tell us that whatever we want to do is acceptable. He will tell us that good is evil and that evil is good. The enemy will tell us things that are designed to entangle us in his lies. We must be firmly grounded in the truth of God and His Word. We must be prepared to give an account of why we follow Jesus. We must be prepared to submit to the Lord and fully rely on His strength to resist the devil.
Submit yourselves, then, to God. Resist the devil, and he will flee from you.
(James 4:7 (NIV))
Will you be able to resist?
Copyright 1998 – 2021 Dennis J. Smock
Daily Living Ministries, Inc.
http://www.dailylivingministries.org
Support Daily Living Ministries
Subscribe to daily email delivery
Visit us on facebook