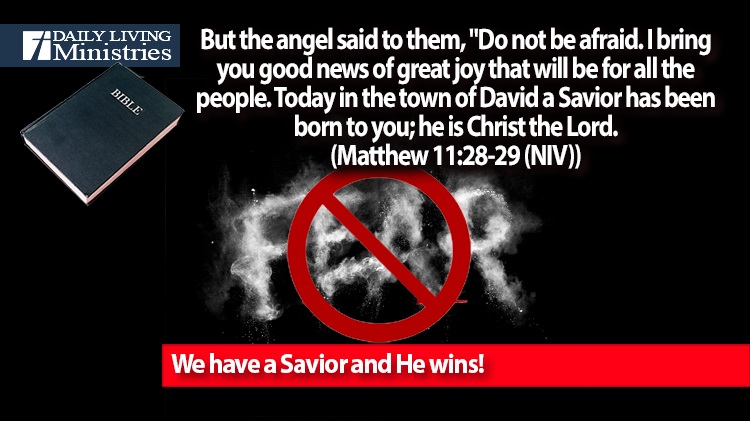 Be Still . . .
Devotionals for Daily Living ©
But the angel said to them, "Do not be afraid. I bring you good news of great joy that will be for all the people. Today in the town of David a Savior has been born to you; he is Christ the Lord.
(Matthew 11:28-29 (NIV))
I am so very weary!
I don't know just how much more of this world I can stand. Jesus is mocked and chastised while evil is declared truth. Common sense and civility no longer seem to exist.
The whole world simply seems to be upside down and getting worse!
Perhaps I spend too much time watching and reading about events in the world and the current state of what the world says is good. It is heartbreaking to see, but I believe that it is important to know what is going on so that I am at least aware and possibly prepared. We were told to know the seasons. We can't live our lives in a vacuum where we are completely oblivious to what is going on around us. That is what the enemy wants us to do.
I am weary, or should I say saddened by the current state of the world. I am also very excited, for we have a promise from God. He sent His Son Jesus to be our Savior. Because of this, even when I am weary from what I see in the world, all I have to do is look up to see my Savior.
Don't forget the promises that God has fulfilled in sending His Son!
I am eternally thankful for Jesus! Even in the midst of troubles, He is in complete control. Everything is unfolding just as the Lord planned. We have nothing to fear even when all seems lost.
"I have told you these things, so that in me you may have peace. In this world you will have trouble. But take heart! I have overcome the world."
(John 16:33 (NIV))
Are you afraid of the events that are happening in the world? Are you weary and burdened by the things that you see unfolding? Are you saddened by the total rebellion against God? Does it break your heart to see evil being called good and good being called evil? There is an old saying that it is darkest just before the dawn. To put this saying into context – when it seems that things can't get any worse, look up. When you can't understand why things are happening as they are, look up. When you think that the world can't do anything else that goes against God's righteousness, look up. The dawn is coming!
Angels rejoiced when Jesus was born. The enemy rejoiced when Jesus was crucified for he thought that he had won. The disciples rejoiced at the resurrection. Each believer rejoices at the moment of accepting salvation. The enemy is rejoicing once again, but all of the heavenly host and all who call upon the name of Jesus will rejoice at His return.
We have a Savior and He wins!
Copyright 1998 – 2021 Dennis J. Smock
Daily Living Ministries, Inc.
http://www.dailylivingministries.org
Support Daily Living Ministries
Subscribe to daily email delivery
Visit us on facebook