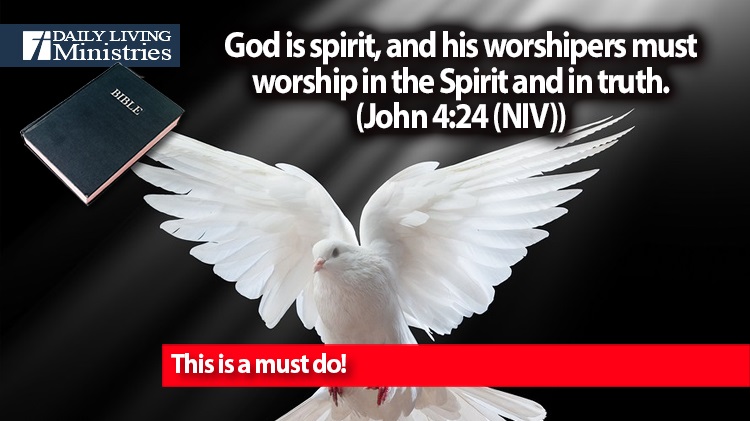 Be Still . . .
Devotionals for Daily Living ©
God is spirit, and his worshipers must worship in the Spirit and in truth.
(John 4:24 (NIV))
All throughout human history since the fall from grace, man has wanted to be able to visualize what he has worshipped. Perhaps this is due to the limited capabilities of humanity to understand what he cannot see. Whatever the reason may be, God cannot be limited to physical dimensions such as time and place, size and shape. God is exactly what John told us. He is Spirit. We cannot see Him in our physical limitations. We must learn to see beyond what we are and learn to see God with our hearts and our spirits, and not with our limited physical bodies.
There is a saying that there is more to this world than meets the eye. How true this statement is. All around us is a spiritual world that we cannot see, but it interacts with us on a daily basis. God has reached out to us from this world that we cannot see by sending His Son, Jesus.
In the beginning was the Word, and the Word was with God, and the Word was God. He was with God in the beginning. Through him all things were made; without him nothing was made that has been made. In him was life, and that life was the light of all mankind.
(John 1:1-4 (NIV))
Jesus taught us how to worship God in spirit and in truth. He came as the ultimate example of God's love to make it possible for us to make it back to God even from our sinful, fallen nature.
For God so loved the world that he gave his one and only Son, that whoever believes in him shall not perish but have eternal life. For God did not send his Son into the world to condemn the world, but to save the world through him. Whoever believes in him is not condemned, but whoever does not believe stands condemned already because they have not believed in the name of God's one and only Son.
(John 3:16-18 (NIV))
Only through Jesus will we be able to stand before God. Only through Jesus are we made righteous to be able to stand before a righteous God. Until that day, we must keep our eyes on Jesus as the only way to the Father.
Jesus answered, "I am the way and the truth and the life. No one comes to the Father except through me. If you really know me, you will know my Father as well. From now on, you do know him and have seen him."
(John 14:6-7 (NIV))
In all things that Jesus did, He always pointed to the Father. He came to earth to show us the way to the Father. How well have you learned the truth of that lesson that Jesus taught?
This is a must do!
Copyright 1998 – 2021 Dennis J. Smock
Daily Living Ministries, Inc.
http://www.dailylivingministries.org
Support Daily Living Ministries
Subscribe to daily email delivery
Visit us on facebook