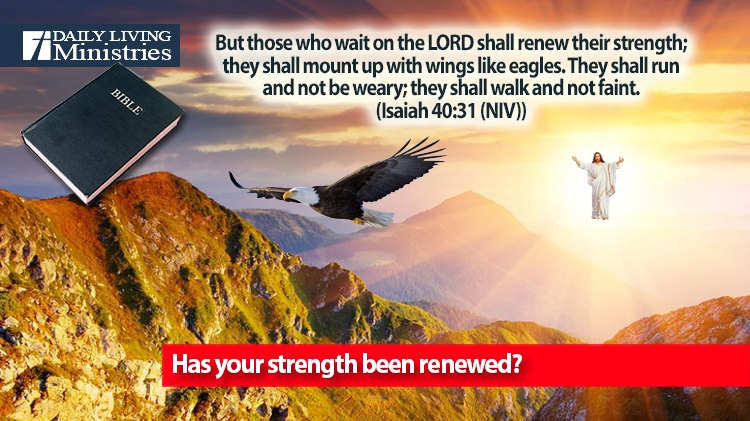 Be Still . . .
Devotionals for Daily Living ©
But those who wait on the LORD shall renew their strength; they shall mount up with wings like eagles. They shall run and not be weary; they shall walk and not faint.
(Isaiah 40:31 (NIV))
With all that is going on in the world, I cling to these words!
If you focus on the events of the world, it is so easy to lose hope and once you have lost hope, the next step is to simply give up. As believers, we know better than that. We have a Savior who has overcome the world! We can rely on the promise recorded by John in these words.
I have told you these things, so that in me you may have peace. In this world you will have trouble. But take heart! I have overcome the world.
(John 16:33 (NIV))
There is a saying that when things look down, we are to look up. We look up for that is where Jesus is. He is our hope. He is our strength. He is our salvation. We are to turn our eyes to Him and renew our strength. Our hope and our strength are not based on some far off promise by someone who does not have the authority to keep that promise. It is based on the authority of the Creator of all things.
In the beginning was the Word, and the Word was with God, and the Word was God. He was with God in the beginning. Through him all things were made; without him nothing was made that has been made.
(John 1:1-3 (NIV))
The Word became flesh and made his dwelling among us. We have seen his glory, the glory of the one and only Son, who came from the Father, full of grace and truth.
(John 1:14 (NIV))
If you profess a faith in Jesus as your personal Lord and Savior, He is all that we need and with Him and through Him we will overcome anything that the world may send our way.
Do you need strength?
Turn to Jesus!
Do you need to soar above the troubles?
Turn to Jesus!
Do you need rest because you are weary and faint?
Turn to Jesus!
Has your strength been renewed?
Copyright 1998 – 2021 Dennis J. Smock
Daily Living Ministries, Inc.
http://www.dailylivingministries.org
Support Daily Living Ministries
Subscribe to daily email delivery
Visit us on facebook