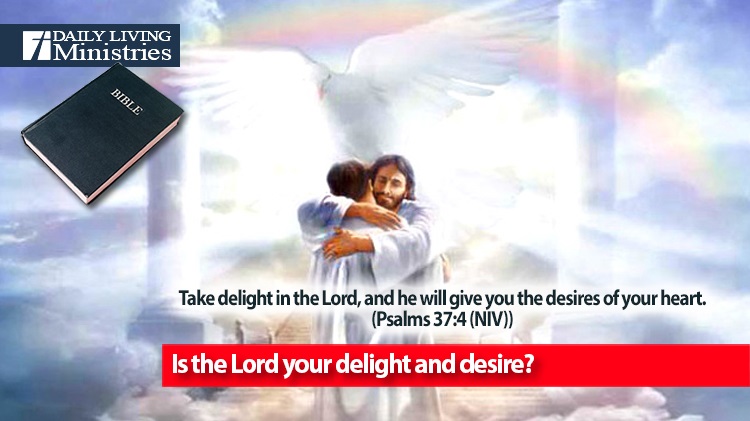 Be Still . . .
Devotionals for Daily Living ©
Take delight in the Lord, and he will give you the desires of your heart.
(Psalms 37:4 (NIV))
What do you delight in?
If you are like most people, the first thing that probably came to mind was family. If that is the case, your desires probably all focus on their happiness and well being. If you are truly delighted in your family, as a believer in Jesus as your personal Lord and Savior, you desire for each member of your family to come to a saving knowledge of Jesus as their personal Lord and Savior. You desire for them to share in your delight in the Lord.
Just who do you consider as family?
If you have accepted Jesus, then you have become a child of God!
The true light that gives light to everyone was coming into the world. He was in the world, and though the world was made through him, the world did not recognize him. He came to that which was his own, but his own did not receive him. Yet to all who did receive him, to those who believed in his name, he gave the right to become children of God— children born not of natural descent, nor of human decision or a husband's will, but born of God.
‭‭(John‬ ‭1:9-13‬ ‭(NIV‬‬))
Do you see God as your Father?
If you claim this relationship through Jesus, you should delight in the Lord. You should delight in the grace and mercy that you have been given. You should delight in His Word. You should delight in His Word made flesh! If this is true, and I pray that it is, then you should desire more of the Lord. You should desire more of what you take delight in!
Is the Lord your delight and desire?
Copyright 1998 – 2021 Dennis J. Smock
Daily Living Ministries, Inc.
http://www.dailylivingministries.org
Support Daily Living Ministries
Subscribe to daily email delivery
Visit us on facebook