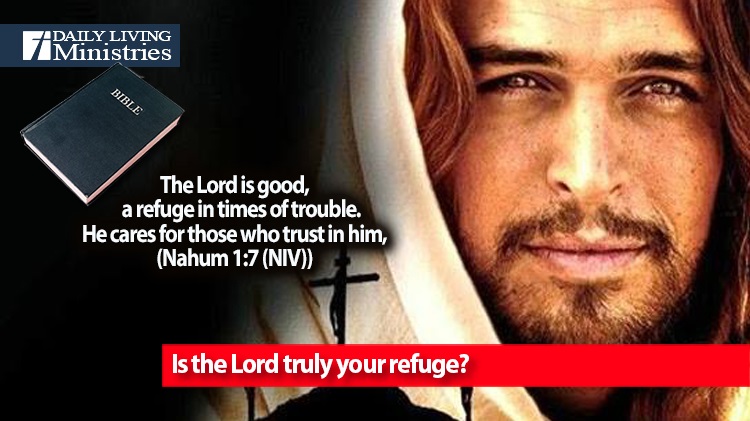 Be Still . . .
Devotionals for Daily Living ©
The Lord is good,
     a refuge in times of trouble.
He cares for those who trust in him,
(Nahum 1:7 (NIV))
With the escalation of all that has been happening in the world over the last several years, and especially this last year, have you taken refuge in the Lord?
I find great pleasure in the fact that the Lord is our refuge in times of trouble, especially since we seem to be facing troubles like we have never seen before. Based on Ezekiel, Daniel and Revelation, many people firmly believe that these troubles are just beginning. No matter what we may face in this world, we must keep our eyes on Jesus. We must remember the things that He has told us. We must cling to the promises that He has given us. We must turn our attention away from the troubles of this world and look to the One who created this world and the One who is unfolding His plan to restore this world.
"I have told you these things, so that in me you may have peace. In this world you will have trouble. But take heart! I have overcome the world."
(John 16:33 (NIV))
How is your relationship with the Lord? Do you completely trust in Him? Do you turn to Him in times of trouble? Perhaps I should ask if that is the only time that you turn to the Lord. Do you go about your life with no thought of God until times get bad? Do you only turn to the Lord when you want something or when you need the Lord to rescue you? If this is your idea of a relationship built on trusting the Lord, you may find yourself in for a surprise.
"Not everyone who says to me, 'Lord, Lord,' will enter the kingdom of heaven, but only the one who does the will of my Father who is in heaven. Many will say to me on that day, 'Lord, Lord, did we not prophesy in your name and in your name drive out demons and in your name perform many miracles?' Then I will tell them plainly, 'I never knew you. Away from me, you evildoers!'
(Matthew 7:21-23 (NIV))
Do you do the will of the Father? Do you spend enough time with the Father to even know what His will is? Do you spend enough time in His Word to truly know His heart? Do you truly know Jesus as your personal Savior and also as your Lord, for when you call someone Lord, they are in authority over you. When you call someone Lord, you have a responsibility to obey. When you call someone Lord, you can turn to them for refuge and shelter.
Is the Lord truly your refuge?
Copyright 1998 – 2021 Dennis J. Smock
Daily Living Ministries, Inc.
http://www.dailylivingministries.org
Support Daily Living Ministries
Subscribe to daily email delivery
Visit us on facebook