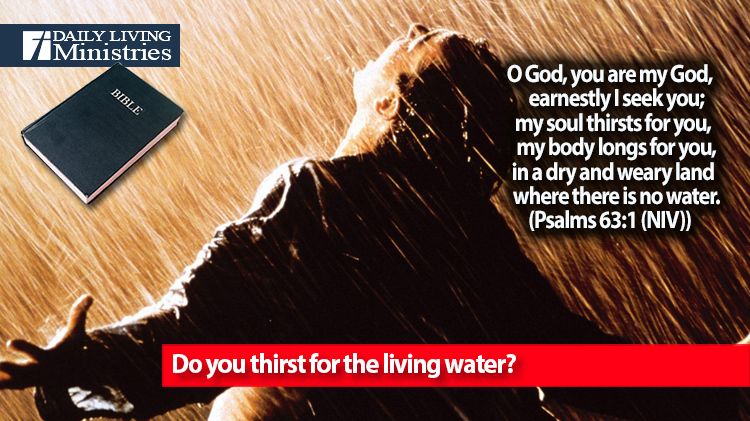 Be Still . . .
Devotionals for Daily Living ©
O God, you are my God,
     earnestly I seek you;
  my soul thirsts for you,
     my body longs for you,
  in a dry and weary land
     where there is no water.
(Psalms 63:1 (NIV))
All too often we hear words that speak of a dry and weary land where there is no water.
Is it just me, or have things gotten very dry and weary lately? There doesn't seem to be any hope in this world and it is becoming a wearisome burden to simply watch things as they unfold. As members of the Body of Christ, we know that we thirst for God. We know that this thirst cannot be quenched by anything of this world, but still we long for a glimpse of His righteousness as the world sinks further and further into a spiritual dryness. Just as we long for a cool and refreshing taste of water when we are physically dry and weary, we long for a cool and refreshing moment in the living water!
Stop to think about this statement. Without water, we die. We start to lose consciousness and eventually lose all touch with reality because our body has started to shut down.
We can go for days and even weeks without eating, yet, we cannot go for much more than twenty-four hours without water. Just as our bodies need water to survive, our souls need God to survive. We need to drink deeply of the life-giving "water" that freely flows from God through Jesus Christ. This water is freely given. It is available to any and all who desire it. There is only one stipulation, and that it can only be received by receiving Jesus as your personal Lord and Savior.
We thirst for water to satisfy our bodies. Do you thirst for the living water from God to satisfy your soul? There is only one source!
Do you thirst for the living water?
Copyright 1998 – 2021 Dennis J. Smock
Daily Living Ministries, Inc.
http://www.dailylivingministries.org
Support Daily Living Ministries
Subscribe to daily email delivery
Visit us on facebook