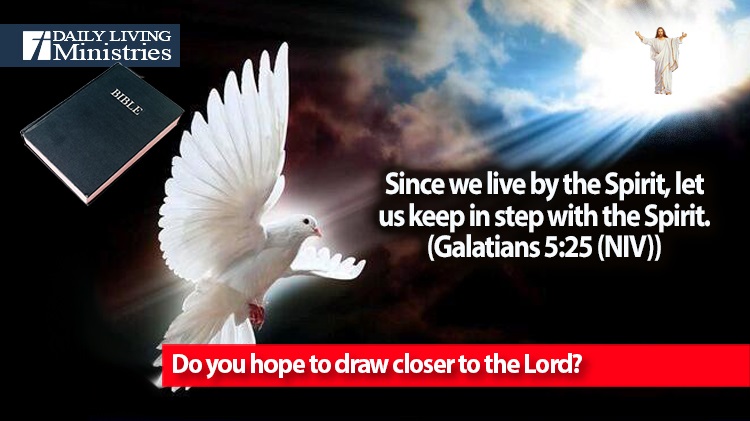 Be Still . . .
Devotionals for Daily Living ©
Since we live by the Spirit, let us keep in step with the Spirit.
(Galatians 5:25 (NIV))
Have you ever read something that made you do a double-take?
This passage did just that for me. Paul made some very profound and bold statements in these few short words.
Reread this passage and be honest with yourself when you answer the following questions.
Do you honestly live by the Spirit?
I know that I long to live by the Spirit, but human nature prevents me from fulfilling this with any consistency. Paul expressed in his writing that his readers were living by the Spirit. What did they know and do that we do not?
Do you keep in step with the Spirit?
If you are like me, you long to keep in step, but all too often you find yourself several paces behind, or at best, you find that you have been distracted and are not even in the same zip code.
I often wonder how Paul was able to live by the Spirit, and to keep in step with the Spirit , but then I remember that Paul had an encounter that left a permanent impression upon his life. He encountered Jesus in a way that would leave even the biggest skeptic in a state of complete obedience.
Is that what it takes for us? Do we need such an amazing encounter that we can't help but obey? I hope that is not the case, for we have to remember that Paul was persecuting the church. Jesus had to do something to change the course of Paul's life. Hopefully, we are not persecuting His church. At best, we may be slightly engrossed in our lives and not give all that we can, but I honestly do not think that we can be accused of persecuting the church.
Drastic times call for drastic measures!
That is what Jesus did in the life of Paul. He drastically changed Paul. He changed him to the point of being able to live by the Spirit. Paul tried to weigh everything and do everything according to what the Spirit told him to do. Can you imagine how things would be different if Paul lived his life as we have a tendency to live ours? Imagine the way things would have unfolded IF Paul had gone back to Jerusalem to seek medical help for his sudden blindness. He would have not followed the leading of the Spirit to go to Damascus. Ananias would not have been needed because Paul was not there. Paul would not have been healed. He would not have started his mission to the gentiles. You would probably not be reading this right now.
I often wonder if I am living by the Spirit and if I am in step with the Spirit. This is something that I pray. I long to become able to better discern the gentle voice of the Spirit. This may be food for those who claim that Christians are weak minded, but I like to think that I would want to become like an obedient dog following his master. I long for this type of a relationship not because I am weak minded, but because I know the bond of love that is present in this type of relationship. Wherever the master goes, you guessed it, the dog follows. The dog is so in tune to his master that he instinctively knows where the master is leading.
Are you instinctively in tune to where the Spirit is leading? Are you even in the same zip code?
Do you hope to draw closer to the Lord?
Copyright 1998 – 2021 Dennis J. Smock
Daily Living Ministries, Inc.
http://www.dailylivingministries.org
Support Daily Living Ministries
Subscribe to daily email delivery
Visit us on facebook