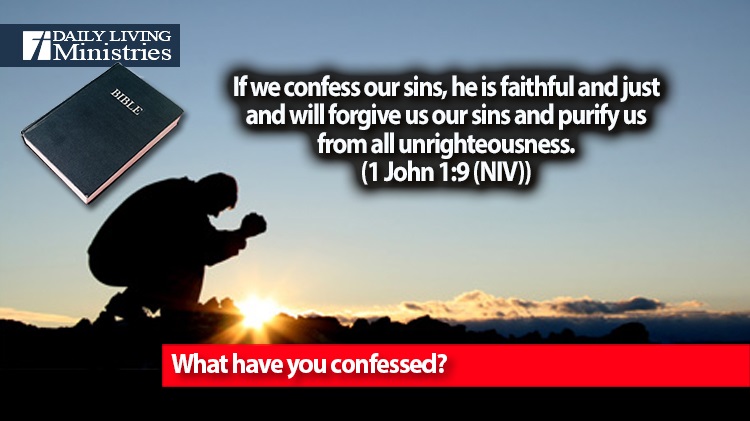 Be Still . . .
Devotionals for Daily Living ©
If we confess our sins, he is faithful and just and will forgive us our sins and purify us from all unrighteousness.
(1 John 1:9 (NIV))
Forgiveness requires confession. Confession comes when we desire to change from our sinful nature. That desire to change can only happen when you come to the realization that, contrary to what you have thought in the past, you are a sinner.
for all have sinned and fall short of the glory of God,
(Romans 3:23 (NIV))
I love the way the sequence of events are presented. It follows the sequence of events of accepting salvation. Before we can confess our sins, we have to come to the realization that we are sinners. We are told of the deception that keeps us from that realization. We are told that thinking we are sinless is a lie.
If we claim to be without sin, we deceive ourselves and the truth is not in us.
(1 John 1:8 (NIV))
There is an old saying that admitting you have a problem is the first step to recovery. In this case, admitting that you are a sinner is the first step to salvation! It doesn't stop there. You must come to the realization that you can do nothing to help yourself and that you need a savior. You must believe in your heart that Jesus Christ died for your sins, was buried, and that God raised Him from the dead. And, you must call upon the name of the Lord Jesus and accept the gift of grace that was freely given through the cross. If we truly desire to receive this amazing gift of grace by our confession of our sins, our confession that Jesus paid the price for our sins, and our confession that Jesus is Lord, He will be faithful to forgive us our sins and bestow upon us His righteousness.
What have you confessed?
Copyright 1998 – 2021 Dennis J. Smock
Daily Living Ministries, Inc.
http://www.dailylivingministries.org
Support Daily Living Ministries
Subscribe to daily email delivery
Visit us on facebook