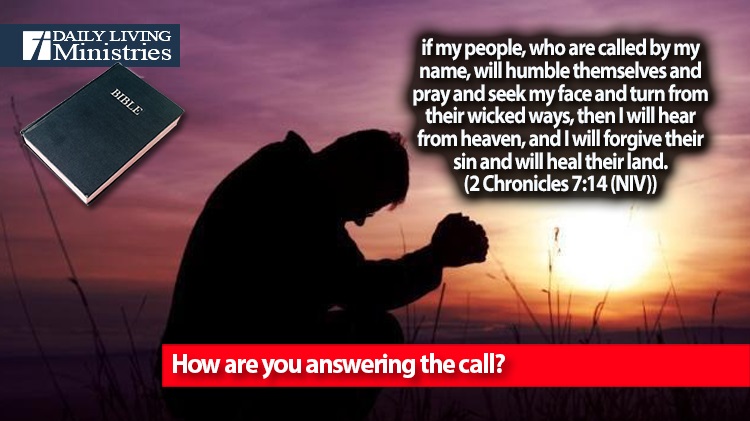 Be Still . . .
Devotionals for Daily Living ©
if my people, who are called by my name, will humble themselves and pray and seek my face and turn from their wicked ways, then I will hear from heaven, and I will forgive their sin and will heal their land.
(2 Chronicles 7:14 (NIV))
If!
Two little letters come together to form a word that has such hope and promise, yet at the same time it points to the consequences of conditions not being met.
We have seen this verse publicly proclaimed for years as members of the Body of Christ have come together to pray for our cities, our states, our nation and our world. It is coming to prominence once again with the recent events of a worldwide pandemic, a worldwide pending financial disaster, the talk of the great reset and how all of this ties into Biblical prophecy. Many people are saying that time is short. These aren't the old man on the street corner with a sign that says the end is near. These are people from all walks of life who have one thing in common. They love Jesus! Because of that love for Jesus, they have been reading Scripture, praying and paying attention to what is going on in the world. They have been given dreams and visions, and for those who haven't been given dreams and visions, they have been given a deep spiritual sense that God is about to do something major. They believe that God's prophetic timeline is upon us.
With that said, I want to pose a question to you.
When we humble ourselves and pray, are we praying because we want things to return to what we would call normal or are we praying because we want God to be glorified?
What if what we want is not what God is planning? What if His timeline is as short as many believers actually think that it is? Are we willing and able to accept a different result than what we want? What if God is planning to remove those who truly follow Jesus in order to heal the land by defeating the enemy once and for all? What if the ultimate healing that believers will receive is a seat at the wedding supper of the Lamb?
I honestly believe that we are to fervently continue our prayers for healing. I also believe that it is time that we turn our prayers for healing of our land into prayers for healing of the hearts of the lost so that they may experience the ultimate healing. I prayerfully present something else for your consideration.
Going a little farther, he fell with his face to the ground and prayed, "My Father, if it is possible, may this cup be taken from me. Yet not as I will, but as you will."
(Matthew 26:39 (NIV))
Jesus was praying for His will just as we pray for our will, but you will notice that He didn't stop there. He surrendered His will to that of the Father. We must learn that lesson and surrender our will to that of the Father. His will is perfect. We must learn the other side of "if" and pray to see things through God's eyes.
How are you answering the call?
Copyright 1998 – 2021 Dennis J. Smock
Daily Living Ministries, Inc.
http://www.dailylivingministries.org
Support Daily Living Ministries
Subscribe to daily email delivery
Visit us on facebook