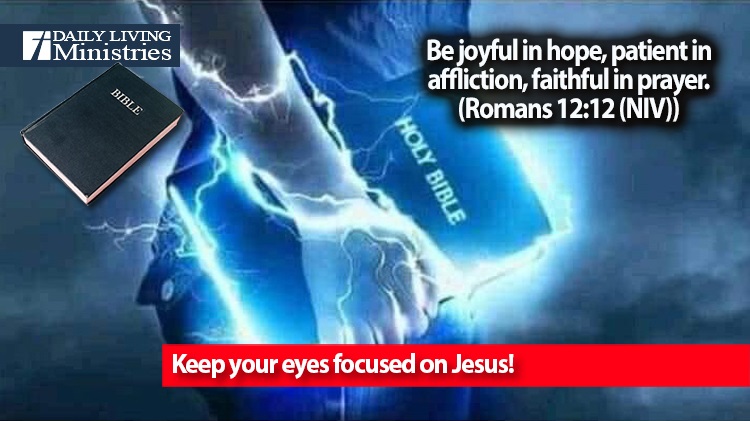 Be Still . . .
Devotionals for Daily Living ©
Be joyful in hope, patient in affliction, faithful in prayer.
(Romans 12:12 (NIV))
Are any of us truly able to do these three things?
Some of us may be good at one of these three, but it is a rare individual who can honestly do all three on a regular basis.
We have all known the individual who was always joyful, hopeful and optimistic. We have all known people who, no matter what hardships come their way, they patiently move in the same direction without complaining. We also have all known people who are powerful prayer warriors and will willingly petition the Lord on any occasion.
I know what it is to be in need, and I know what it is to have plenty. I have learned the secret of being content in any and every situation, whether well fed or hungry, whether living in plenty or in want.
(Philippians 4:12 (NIV))
Am I the only one who sees all of these characteristics in Paul?
Take a look at his life after his Damascus Road experience. From the writings that we have, we see that he was always joyful and hopeful, even in the midst of troubles. We see that he was patient in his afflictions. His writings tell us that he was willing to face affliction if it meant that the Gospel would be spread as a result. We also see from his writing that he was always praying for those whom he had discipled and he was always praying for the Gospel to be made known among the nonbelievers.
What made Paul this unique individual that seems to have possessed all three characteristics and lived them out to the glory of the Lord?
I can do all this through him who gives me strength.
(Philippians 4:13 (NIV))
In other words, Paul kept his eyes on Jesus! He knew where his strength came from. He knew that as long as he kept his eyes on Jesus, he would be guided to live out these characteristics and so much more.
When do you lose joy?
When do you lose hope?
When do you lose patience?
When do you fail to be faithful in prayer?
If you are like me, the answer to all of these questions is the same. All of these happen when we fail to keep our eyes on Jesus. We fail to look to Him. We fail to rely on His strength. We fail to surrender authority to the name that we profess as having all power and authority. If we keep our eyes on Jesus, He is our joy. He is our hope. He is our patience and He is our faithfulness.
Keep your eyes focused on Jesus!
Copyright 1998 – 2021 Dennis J. Smock
Daily Living Ministries, Inc.
http://www.dailylivingministries.org
Support Daily Living Ministries
Subscribe to daily email delivery
Visit us on facebook