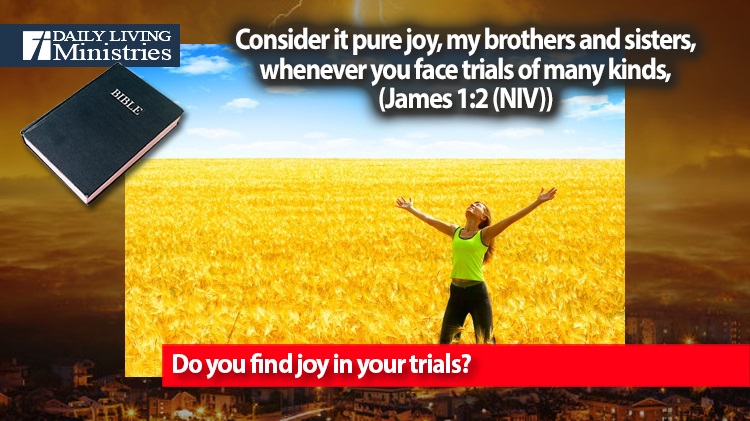 Be Still . . .
Devotionals for Daily Living ©
Consider it pure joy, my brothers and sisters, whenever you face trials of many kinds,
(James 1:2 (NIV))
What is your state of mind considering the present state of the world?
I ask this because all of us have been facing trials that we never thought would happen and we honestly don't know if and when they will end. With this in mind, are you filled with joy? Do you have a peace in your life that others just don't seem to understand? If this is true, then it is time to share the reason behind your joy and your peace so that others may come to know the same truths.
And the peace of God, which transcends all understanding, will guard your hearts and your minds in Christ Jesus.
(Philippians 4:7 (NIV))
No one knows what tomorrow may bring. This very moment might be the last opportunity that someone you know has to accept Jesus as their personal Lord and Savior. You need to tell them about Jesus! If you believe that the events foretold of in Daniel and Revelation are unfolding, then we should have a sense of urgency in sharing the hope and joy of our salvation with those who need to know Jesus before the time comes when it is too late.
I have told you these things, so that in me you may have peace. In this world you will have trouble. But take heart! I have overcome the world.
(John 16:33 (NIV))
We know that there will be trouble in this world. Sometimes the trouble is of a personal nature. Sometimes the trouble is of a catastrophic nature. No matter what trouble you face, we know that our redeemer lives! If you truly stop to think about the trials and troubles that this world sends our way, we should have such a joy and a peace just from the knowledge that the One in whom we trust has overcome the world and will see us through whatever we are going through.
For to me, to live is Christ and to die is gain.
(Philippians 1:21 (NIV))
We have been given a promise that Jesus is with us always in this world no matter what we may face. We are also given a promise that He is preparing a place for us. Based on these promises, why would anyone who professes a faith in Jesus as their personal Lord and Savior ever feel anything less than joy since the promises of hope are true?
Do you find joy in your trials?
Copyright 1998 – 2021 Dennis J. Smock
Daily Living Ministries, Inc.
http://www.dailylivingministries.org
Support Daily Living Ministries
Subscribe to daily email delivery
Visit us on facebook