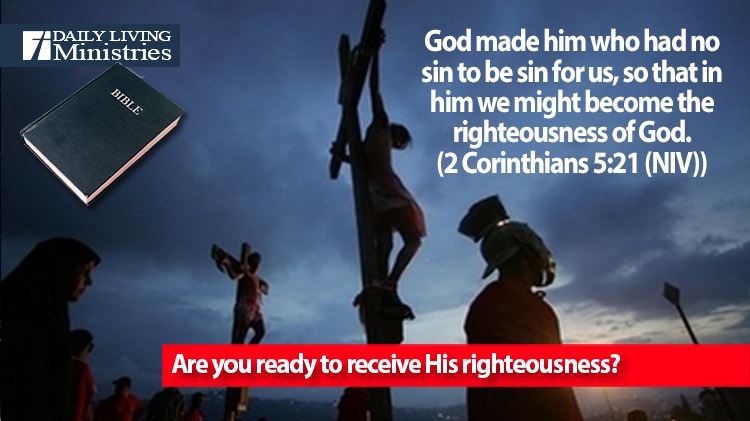 Be Still . . .
Devotionals for Daily Living ©
God made him who had no sin to be sin for us, so that in him we might become the righteousness of God.
(2 Corinthians 5:21 (NIV))
In just a few days, we, as the Body of Christ, will be celebrating the event that proves that Jesus is who He said He was. No other person in all of history faced such a horrible death, was buried and then arose from the grave on the third day. In addition to this, He ascended into heaven in front of a group of witnesses.
He said to them: "It is not for you to know the times or dates the Father has set by his own authority. But you will receive power when the Holy Spirit comes on you; and you will be my witnesses in Jerusalem, and in all Judea and Samaria, and to the ends of the earth."
After he said this, he was taken up before their very eyes, and a cloud hid him from their sight.
(Acts 1:7-9 (NIV))
I love the truth of the resurrection. I love the hope of promises. Still, I believe that we need to focus our attention on the words recorded that give us assurance that He will return.
They were looking intently up into the sky as he was going, when suddenly two men dressed in white stood beside them. "Men of Galilee," they said, "why do you stand here looking into the sky? This same Jesus, who has been taken from you into heaven, will come back in the same way you have seen him go into heaven."
(Acts 1:10-11 (NIV))
The resurrection means so much more than Jesus arose from the grave. It means that He has the power over sin and death. It means that He has the authority to save us from our sins. And best of all, it means that He will return for those who profess a faith in Him.
It is as easy as ABC.
A is for admit that you are a sinner in need of a savior.
B is for believe in your heart that Jesus Christ died for your sins, was buried, and that God raised Him from the dead.
C is for call upon the name of the Lord Jesus.
Are you ready to receive His righteousness?
Copyright 1998 – 2021 Dennis J. Smock
Daily Living Ministries, Inc.
http://www.dailylivingministries.org
Support Daily Living Ministries
Subscribe to daily email delivery
Visit us on facebook