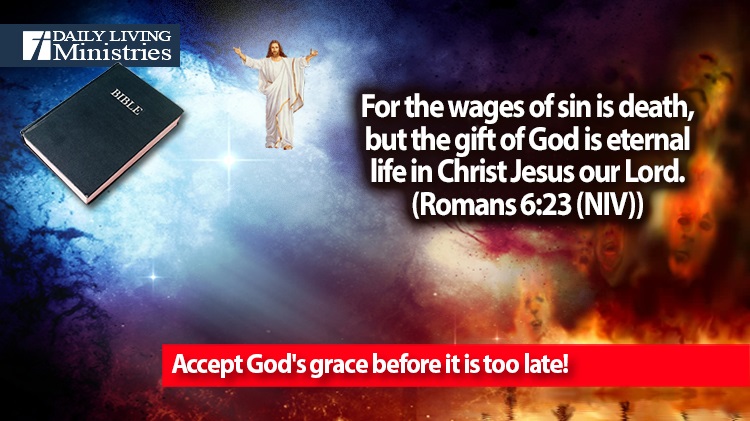 Be Still . . .
Devotionals for Daily Living ©
For the wages of sin is death, but the gift of God is eternal life in Christ Jesus our Lord.
(Romans 6:23 (NIV))
Are you ready to accept your wages? Perhaps I should ask that another way. Are you ready to pay the price of your wages that you have earned?
I realize that this doesn't sound very nice, but it is the truth. We argue over minimum wage, but we fail to ever mention the wage that every single one of us owes because of our sinful nature. There is a price to pay for our sin, yet far too many people ignore the fact as if they don't even care about the consequences of their sinful nature.
for all have sinned and fall short of the glory of God,
(Romans 3:23 (NIV))
but…
There is hope!
There is grace!
There is mercy!
For God so loved the world that he gave his one and only Son, that whoever believes in him shall not perish but have eternal life. For God did not send his Son into the world to condemn the world, but to save the world through him. Whoever believes in him is not condemned, but whoever does not believe stands condemned already because they have not believed in the name of God's one and only Son.
(John 3:16-18 (NIV))
It is a common misconception that God rejects people and sends them to hell. On the contrary, they send themselves there because they reject God and His free offer of grace and mercy. With that statement of truth, it becomes important that each and every person take a serious look at their lives and stop rejecting the loving God that created them and is trying to redeem them from the consequences of sin, from the wages of sin.
The Lord is not slow in keeping his promise, as some understand slowness. Instead he is patient with you, not wanting anyone to perish, but everyone to come to repentance.
(2 Peter 3:9 (NIV))
Time is short! Nothing is guaranteed.
What if you are the type of person who tells yourself that I will take care of my salvation tomorrow and tomorrow never comes? If that were to happen, are you prepared for the consequences? Are you prepared to discover that you could have avoided the consequences by simply accepting God's gift of eternal life in Jesus?
Accept God's grace before it is too late!
Copyright 1998 – 2021 Dennis J. Smock
Daily Living Ministries, Inc.
http://www.dailylivingministries.org
Support Daily Living Ministries
Subscribe to daily email delivery
Visit us on facebook