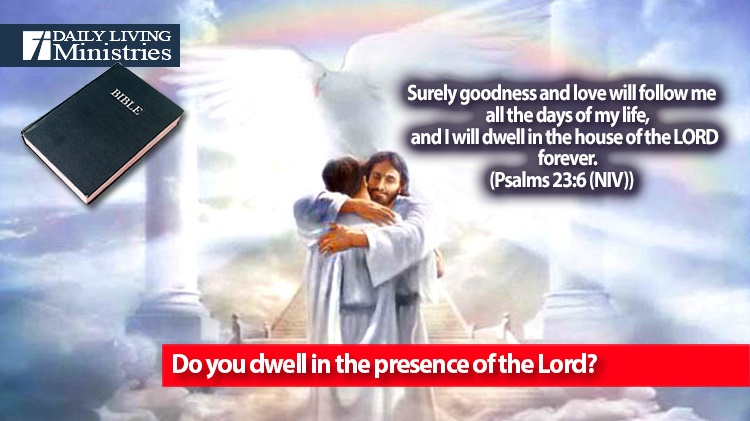 Be Still . . .
Devotionals for Daily Living ©
Surely goodness and love will follow me
      all the days of my life,
   and I will dwell in the house of the LORD
      forever.
(Psalms 23:6 (NIV))
There are houses and there are homes. There are buildings and then there are dwellings. What makes the difference is a matter of attitude. A house is simply a place to sleep. A home is a place of refuge and comfort. A building is simply four walls. A dwelling is someplace that you have completely moved in to and have made it your own.
God is looking for those who wish to make His presence their home. He is looking to believers to desire to dwell in His presence. He does not want us to simply come into His presence to sleep and then go our own way. He wants us to long to be at home in His presence. He desires for us to desire Him and be completely content; to be completely at peace with Him.
Peace!
Perhaps that is what makes the difference between a house and a home and a building and a dwelling. Peace allows you to settle in and to get comfortable. God wants us to get comfortable in His presence.
Are you comfortable in God's presence?
Are you at home in God's presence?
Do you dwell in the presence of the Lord?
Copyright 1998 – 2021 Dennis J. Smock
Daily Living Ministries, Inc.
http://www.dailylivingministries.org
Support Daily Living Ministries
Subscribe to daily email delivery
Visit us on facebook