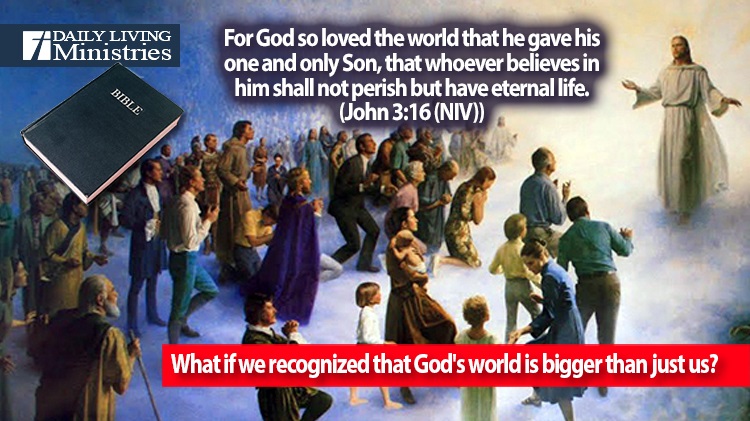 Be Still . . .
Devotionals for Daily Living ©
For God so loved the world that he gave his one and only Son, that whoever believes in him shall not perish but have eternal life.
(John 3:16 (NIV))
Are you glad that you have accepted the offer of grace and salvation as it was given to you?
Are you the world?
In other words, was God's plan to only save you?
Even if you only looked at those who are alive at this very moment in time, each of us, by ourselves, is miniscule in comparison to all whom God loves. Even so, what God unfolded for the whole world would have been done for only one. In fact, if you truly stop to reflect on His plan of salvation, it was and is unfolding one person at a time. It didn't stop with you!
With everything that is going on in the world at this moment in time, there are many who need to come to the knowledge of the saving grace that can be theirs if they will only accept what God is freely giving. The next time you see someone ridiculing Jesus, remember Saul and his Damascus Road experience. The next time that you see someone flaunting evil in every action that they take, remember what you were like before accepting Jesus. The next time that you see someone so lost in sin, remember the old saying, "By the grace of God go I!"
As members of the Body of Christ, we are called to action.
Therefore go and make disciples of all nations, baptizing them in the name of the Father and of the Son and of the Holy Spirit, and teaching them to obey everything I have commanded you. And surely I am with you always, to the very end of the age.
(Matthew 28:19-20 (NIV))
What was freely given to you was also freely given to all. The only difference is that some may not have heard. Some may not have accepted, but how can they believe if nobody will tell them? Are you willing to tell them?
No one knows the day nor the hour, but many people are recognizing the season as God's plans are unfolding. Is there someone that you can tell about the saving grace that can be theirs? What if we each shared this good news with one person each day?
What if we recognized that God's world is bigger than just us?
Copyright 1998 – 2021 Dennis J. Smock
Daily Living Ministries, Inc.
http://www.dailylivingministries.org
Support Daily Living Ministries
Subscribe to daily email delivery
Visit us on facebook