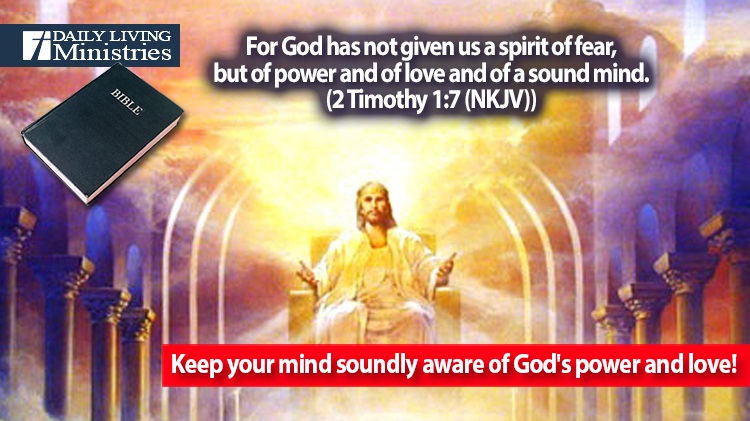 Be Still . . .
Devotionals for Daily Living ©
For God has not given us a spirit of fear, but of power and of love and of a sound mind.
(2 Timothy 1:7 (NKJV))
What is your reaction when you look at the current state of the world?
If you are like me, you are probably shaking your head in disbelief as common sense has become more uncommon as each day passes. Even in the midst of all of the current events in this world, we must not lose hope as we continually focus on what we have been told will happen.
You will hear of wars and rumors of wars, but see to it that you are not alarmed. Such things must happen, but the end is still to come. Nation will rise against nation, and kingdom against kingdom. There will be famines and earthquakes in various places. All these are the beginning of birth pains.
(Matthew 24:6-8 (NIV))
When you read these words from Matthew, did you read them in fear or did you have a peace from knowing that we have been told about the very things that are unfolding right before us? For those who have been with me for a while, you may remember that at one point I mentioned that when these words were written a nation referred to a people group and a kingdom referred to what we today now call a nation. In other words, nation will rise against nation refers to what we are seeing today with all of the racial strife. Kingdom against kingdom refers to all of the tensions between countries. Even in the midst of all of this and so much more, we must rely on Jesus.
And the peace of God, which surpasses all understanding, will guard your hearts and your minds in Christ Jesus.
(Philippians 4:7 (ESV))
No matter what we may see as things unfold right before our eyes, we must not lose sight of the fact that we can face all things if we keep our eyes focused on Jesus. He is the author and perfecter of our faith! Through Jesus, we have nothing to fear. We can fully rely on His power and His love as assurances of what has been promised. We can boldly face anything when our minds are firmly and soundly focused on Jesus.
It is a matter of focus.
As humans, we have the ability to choose what we see. We can cast our gaze upon the text in a book and still see the surrounding room, but the details of that room are not clear. If we choose to shift our focus to the details in the room, the text in the book becomes lost in our periphery. In much the same manner as we can choose to focus on what is right in front of us, we can choose what to focus on when it comes to peace or fear. We can look at the world and fear comes into focus or we can look to the Lord and fear goes away!
What do you see when you see the world?
If you are not seeing the power and love of God, then change your focus!
Keep your mind soundly aware of God's power and love!
Copyright 1998 – 2021 Dennis J. Smock
Daily Living Ministries, Inc.
http://www.dailylivingministries.org
Support Daily Living Ministries
Subscribe to daily email delivery
Visit us on facebook