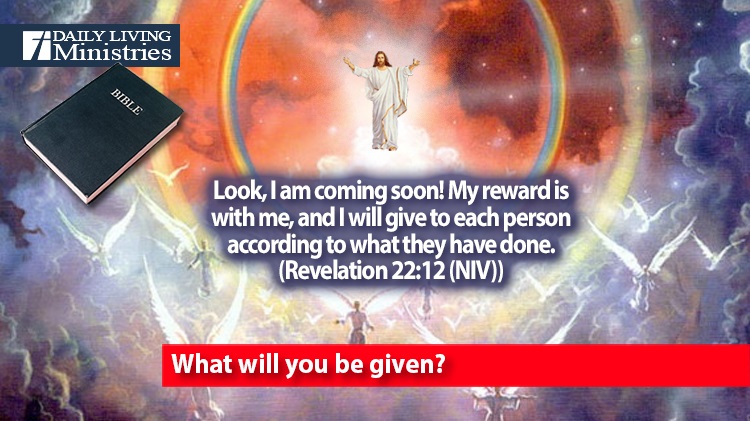 Be Still . . .
Devotionals for Daily Living ©
Look, I am coming soon! My reward is with me, and I will give to each person according to what they have done.
(Revelation 22:12 (NIV))
According to what they have done?
Does this make you stop and ask yourself what are you doing for the Lord?
I realize that grace is freely given, but what we do once we have accepted that gift determines more than we care to admit. We are not saved by works, but once we are saved, we are called to share that saving grace with others. Each of us will receive unique rewards based on how well we have followed the Lord's instructions in much the same manner as we are told of in the parable of the talents. The servants who used the talents wisely were rewarded.
His master replied, 'Well done, good and faithful servant! You have been faithful with a few things; I will put you in charge of many things. Come and share your master's happiness!'
(Matthew 25:23 (NIV))
And what instructions are we supposed to follow?
Then Jesus came to them and said, "All authority in heaven and on earth has been given to me. Therefore go and make disciples of all nations, baptizing them in the name of the Father and of the Son and of the Holy Spirit, and teaching them to obey everything I have commanded you. And surely I am with you always, to the very end of the age."
(Matthew 28:18-20 (NIV))
We have been given an assignment. We are to share the light of Jesus. In fact, once we accept Jesus as our personal Lord and Savior, we are to shine His light through our lives.
You are the light of the world. A town built on a hill cannot be hidden. Neither do people light a lamp and put it under a bowl. Instead they put it on its stand, and it gives light to everyone in the house. In the same way, let your light shine before others, that they may see your good deeds and glorify your Father in heaven.
(Matthew 5:14-16 (NIV))
To be honest with you, there are many more analogies from scripture that I could reference, but to put it simply, we have been given an assignment. Our sole job responsibility is sharing the Gospel. Just as the faithful servants in the parable of the talents, we will be rewarded for obedience to this assigned task. Have you been obedient?
What will you be given?
Copyright 1998 – 2021 Dennis J. Smock
Daily Living Ministries, Inc.
http://www.dailylivingministries.org
Support Daily Living Ministries
Subscribe to daily email delivery
Visit us on facebook