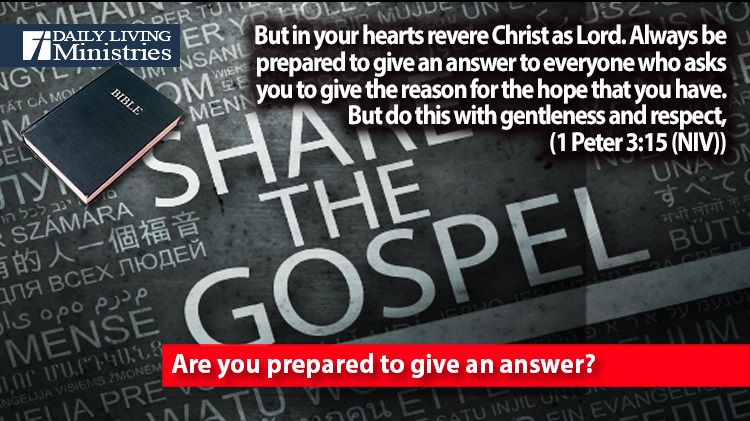 Be Still . . .
Devotionals for Daily Living ©
But in your hearts revere Christ as Lord. Always be prepared to give an answer to everyone who asks you to give the reason for the hope that you have. But do this with gentleness and respect,
(1 Peter 3:15 (NIV))
Do you know why you have the hope that you have?
Can you put your hope into words in such a way that you can answer people when they ask you why you believe in Jesus as your personal Lord and Savior?
Sadly, most people simply are not able to share their personal story with others. They know it in their heart, but too many have a complete disconnect from the heart to the mind. Since most people have a tendency to over think things, they simply cannot string together the words that match what they know to be true.
Does this sound like you?
Is this why you don't share the Gospel?
Perhaps it is time to stop and pray for wisdom as to what you can and will say. Each of us have a testimony. Our testimony is what the Lord will use to reach others. If we can't put our testimony into words, no one is being reached. I realize that it is said that actions speak louder than words, but we need to be able to follow up our actions with words that shine the light on Jesus as the only way to salvation. We can't rely on others to do this for us.
Therefore go and make disciples of all nations, baptizing them in the name of the Father and of the Son and of the Holy Spirit, and teaching them to obey everything I have commanded you. And surely I am with you always, to the very end of the age.
(Matthew 28:19-20 (NIV))
We can't make disciples if we can't give an answer.
Are you prepared to give an answer?
Copyright 1998 – 2021 Dennis J. Smock
Daily Living Ministries, Inc.
http://www.dailylivingministries.org
Support Daily Living Ministries
Subscribe to daily email delivery
Visit us on facebook