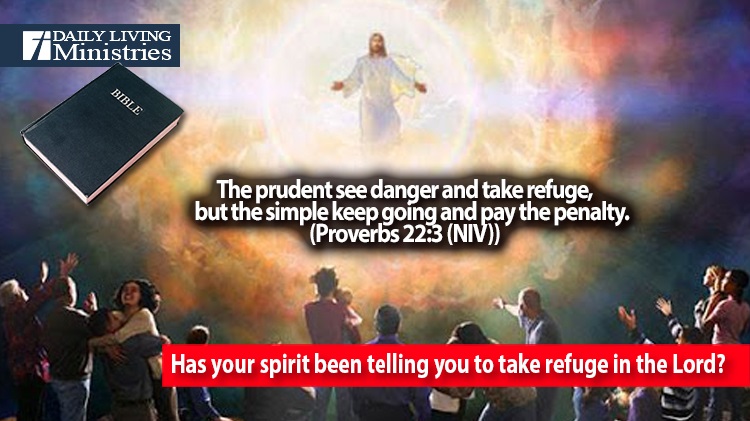 Be Still . . .
Devotionals for Daily Living ©
The prudent see danger and take refuge,
     but the simple keep going and pay the penalty.
(Proverbs 22:3 (NIV))
What do you see when you see the world today?
Do you see a world that is full of hope, or do you see a world that is terrified of everything?
Do you see a world that has it all together, or do you see a world that is literally falling apart?
Do you see a world that is at peace, or do you see a world that is at war at every conceivable level?
Perhaps one more question will clarify your position. Is the world filling up with godly righteousness or evil?
How that you interpret and understand what is going on in the world is based on your world view. If you think that humanity has all of the answers, then you see the world in a transition phase leading into a great reset and a new world order. This world view believes that everything will be perfect if humanity will simply adopt a new belief system. If you see the world through a Biblical world view, then you are the ones that will be required to adopt this new belief system or suffer the consequences. Does this sound familiar from what we have read in prophecy in Daniel, Ezekiel, and Revelation?
Many people who profess a faith in Jesus as their personal Lord and Savior see the proverbial handwriting on the wall. I see more and more people, who are usually quiet, saying that they are sensing that God is up to something and that it will happen very soon. I am talking about local pastors who don't have an internet following because of some prophecy that they recorded for everyone to watch. I am talking about moms and dads who are reporting a sense of urgency in their spirits. I am talking about people falling to their knees and praying in the Spirit who have never done this before.
Then there are those who go about their faith walk as if nothing unusual were happening. They study God's Word completely ignoring the estimated twenty-five percent of the Bible that is prophecy. They especially ignore the prophecies that haven't happened yet. They long for things to return to normal. They love this life and this world so much that they completely miss what God is doing right in front of them.
How do you see the world?
Has your spirit been telling you to take refuge in the Lord?
Copyright 1998 – 2021 Dennis J. Smock
Daily Living Ministries, Inc.
http://www.dailylivingministries.org
Support Daily Living Ministries
Subscribe to daily email delivery
Visit us on facebook