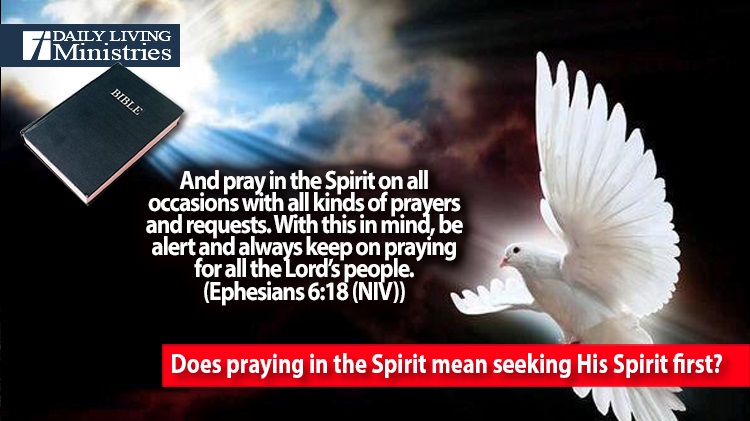 Be Still . . .
Devotionals for Daily Living ©
And pray in the Spirit on all occasions with all kinds of prayers and requests. With this in mind, be alert and always keep on praying for all the Lord's people.
(Ephesians 6:18 (NIV))
Do you understand what it means to pray in the Spirit?
Most people understand that it is the grownings of their spirit beyond what human words can convey. It is a gut-wrenching desire for God to move in a situation and in a way that is beyond human understanding and ability. But is there more to praying in the Spirit than what we usually think?
What is it in our spirit that makes us understand that what is bothering us also bothers God?
Have we grown so close to the Lord that we know His desires better than we know our own? Have we come to the point in our faith that we have turned over our burdens to the Lord? Have we laid them at the foot of the cross in complete surrender?
I am beginning to think, I am beginning to understand, that in order to pray in the Spirit we must earnestly seek His Spirit and His Will. Without that understanding, without seeking His Spirit to begin with, how does our spirit know how to approach God in this manner? How does our spirit know how to communicate in this manner? I realize that many people believe that we were created with a God-shaped hole that we are constantly trying to fill with things of this world. We must learn to prioritize this and fill it with God. By so doing, we replace the world with His Spirit and His Spirit instructs our spirit. I firmly believe that we truly learn to pray in the Spirit when His Spirit lives in us and is guiding us.
Have you ever prayed in the Spirit?
What did it feel like in your spirit? Did you feel a closeness to the Lord that you don't experience all the time? Was it the proverbial mountaintop experience? Did you come away with a deeper understanding of God's heart? Did it leave you longing for more of this closeness with His Spirit? Did you find yourself making time so that you could be in His presence more often?
I truly believe that we were created to be in communication with God in this manner. I have one more question to ask. I know how I choose to answer.
Does praying in the Spirit mean seeking His Spirit first?
Copyright 1998 – 2021 Dennis J. Smock
Daily Living Ministries, Inc.
http://www.dailylivingministries.org
Support Daily Living Ministries
Subscribe to daily email delivery
Visit us on facebook