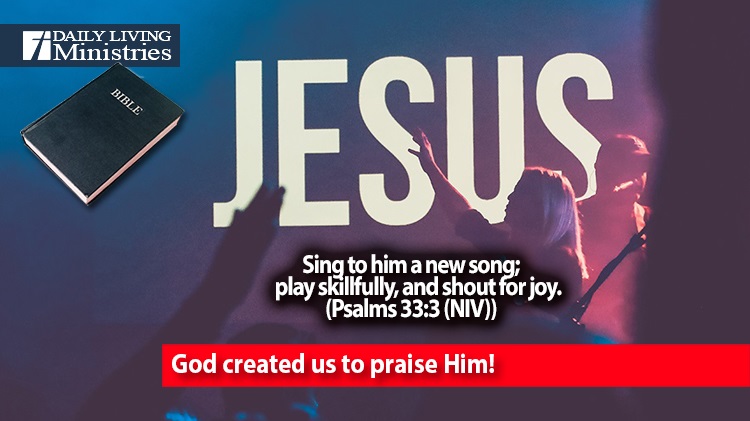 Be Still . . .
Devotionals for Daily Living ©
Sing to him a new song;
     play skillfully, and shout for joy.
(Psalms 33:3 (NIV))
We have been told repeatedly that we are to praise the Lord!
How did the walls of Jericho fall?
What did David do before he killed Goliath?
These are just two quick examples of what happens when we truly stop and lift up honest and sincere praise to the Lord. I am going to ask some questions that will hopefully make people think and may even make some people mad. Please know that this is not my intention. The questions are simple. Do we earnestly and honestly lift up praise to the Lord, or do we simply stand there thinking of other things that come to mind? Do we lift up sincere praise to the Lord or do we simply give lip service? Do we repeat something that has no meaning for us because it is tradition while the songs that glorify what God is doing now are ignored?
God created each of us to be unique. Do we truly understand the praises of David in context to today's society? We read about what God did for David, but because we did not live in these times, they are only words that praise God for what He did several thousand years ago. Please don't get me wrong.
All Scripture is God-breathed and is useful for teaching, rebuking, correcting and training in righteousness, so that the servant of God[a] may be thoroughly equipped for every good work.
(2 Timothy 3:16-17 (NIV))
We must not forget what God did and the praise that David gave, but God is still active in this world, so we should be singing new songs of praise to Him for what He has done and is doing in our lives. We must praise Him for the distant past. We must learn to praise Him for the recent past. We must learn to praise Him for the things that He does in our lives today and will do in our lives tomorrow. That is why we are to sing to Him a new song, for the new songs are to be from our hearts and our lips to thank Him for the great things that He is doing now. Maybe that is why many people don't lift up praise to the Lord. They simply cannot relate. They do not see how an old song that tells of what God did a long time ago is relevant in their lives today. They want to know that God is still on the throne and still doing great things.
I am sure that He expects us to praise Him with and through the unique gifts that we have been given.
God created us to praise Him!
Copyright 1998 – 2021 Dennis J. Smock
Daily Living Ministries, Inc.
http://www.dailylivingministries.org
Support Daily Living Ministries
Subscribe to daily email delivery
Visit us on facebook